Tradition, creativity and quality: this is what awaits your guests at the restaurants of San Marino Outlet Experience
San Marino Outlet Experience awaits your guests and offers them an exclusive shopping experience without forgetting important moments for relaxing between purchases!
This is why at San Marino Outlet Experience – in addition to its 40-plus Italian and international name brand stores – your guests can also discover eateries serving food and drink that will satisfy any palate and need, and introduce them to an unconventional "made in Italy" cuisine featuring traditional flavours with a creative and innovative twist.
At San Marino Outlet Experience, your guests can choose between two main restaurants, each with indoor tables and vast outdoor dining spaces, open every day from 9:00 a.m. to 9:00 p.m. and ideal for enjoying breakfast, lunch and dinner, as well as brunch and aperitivi, in a setting unlike any other, with its elegant and exclusive atmosphere.
Throughout summer, when the outlet stays open till late, there is nothing better than taking a break at one of our restaurants to savour the best San Marino Outlet Experience has to offer!
Aperouge – Bistrot & Caviar Lounge
Here, visitors who appreciate a contemporary ambience and fine cuisine will find them both in this special bistrot inspired by Parisian atmospheres but with a touch of Milan's cosmopolitan flare, which will take you right back to Italy and its tradition of food and drink. The restaurant offers an original menu of the highest quality – made entirely using carefully selected ingredients – and a special selection of exclusive cocktails, accompanied by an excellent wine list, designed to satisfy gourmet guests as well. Here at Aperouge you can lunch or dine or meet to enjoy exclusive aperitivi which, thanks to the unique backdrop, become refined and unforgettable gastronomical experiences.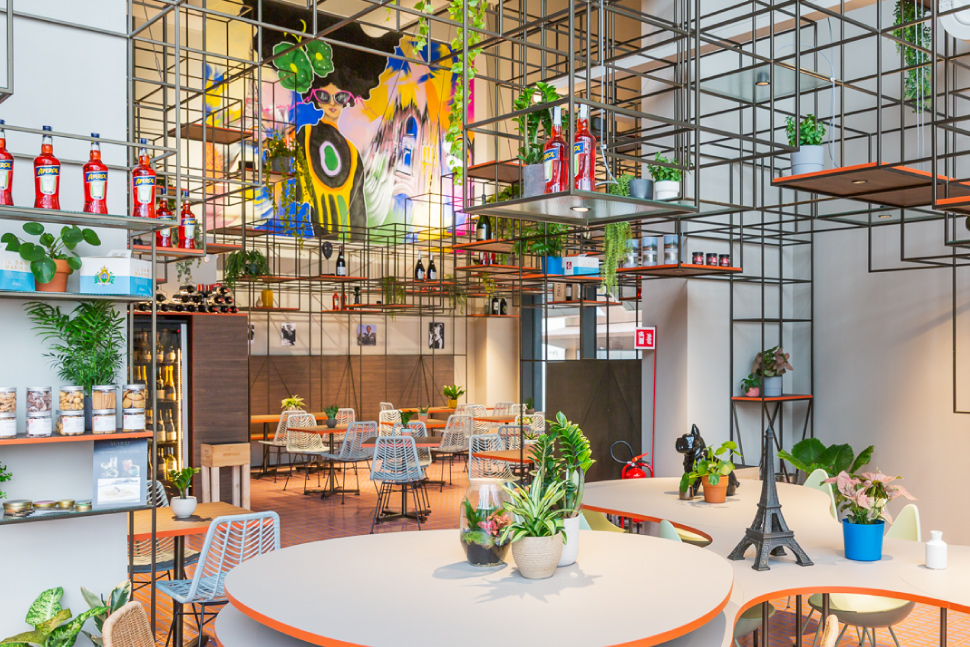 Ferramenta Baker Eat
Instead, guests who are looking for a welcoming place to relish some of Italy's more traditional flavours will be drawn in by the tables at Ferramenta Baker Eat, a restaurant whose menu revolves around the careful choice of top quality locally sourced ingredients. Each product offered to guests – bread, pizza, flatbreads, sweet and savoury croissants – is made in-house by Ferramenta's chefs, who work tirelessly to provide visitors with a complete menu which, starting with breakfast, reveals itself to be perfect for quick lunches, tasty snacks and unforgettable aperitivi, in the most perfect Italian style!
Your guests' shopping day can be made even more special by a break at one of our restaurants, which are always open for bookings and able to meet any special needs or requests, as well as organise special moments full of fun, elegance and, of course, great food!
To learn more about what the restaurants at San Marino Outlet Experience have to offer and for details on everything we can provide your guests, contact us without delay!